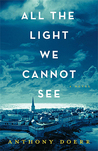 All the Light We Cannot See
by
Anthony Doerr
My rating:
4 of 5 stars
A young French girl, Marie-Laure lives in Paris near the Museum of Natural History, where her father works. At 12 years old, the Nazis occupy Paris, and she flees to Saint-Malo to live with her great uncle in a big house by the sea. They bring the most valuable and dangerous jewel with them from the museum.
In Germany, an orphan boy named Werner Pfennig grows up with his younger sister. They are enchanted by a radio they find as they can listen to the news and stories from places they've never seen. He becomes an expert in building and fixing these instruments and is enlisted to track down the resistance.
Very detailed and the characters were easy to fall in love with. It's very emotional and the ending left me in tears. That said, you really have to be interested in this period of history and enjoy a slower paced book to enjoy reading it.
View all my reviews